Take a look at a few of our sites:
---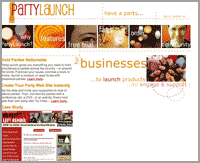 PartyLaunch.com
---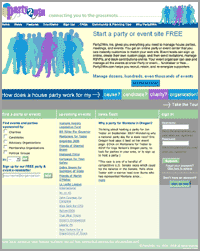 Party2Win.com
---

Is your website helping you build relationships with your customers?

Can visitors identify benefits
and make buying decisions quickly?

Is your web site getting all the hits it should?

YES? Congratulations!
NO?
Call us today! At O'Connell Meier we have the experience it takes to create a site that sells. Whether you're redesigning an existing site, launching a new one, or adding a section, we'll start by looking at who uses the site. What kind of information do they need? How familiar are they with your company? Once the audience is clear, we'll devise a site that quickly directs people to just the information they need.

O'Connell Meier specializes in developing integrated marketing programs that combine email marketing, direct mail, search marketing, and ads. Our goal is to drive prospects to targeted sections of your website for more information and to close the sale. This approach keeps your printing and mailing costs down, while making your website a more effective sales tool.

We've created targeted tours to guide prospects through large conference programs, produced Flash overviews to introduce prospective members to the benefits of membership, created interactive portals and games, and much more. As many of our sites are marketing campaign-specific, they come up and down frequently. Call Rich Meier at 703-739-2266 to learn more about our experience and how we can help you achieve your online marketing goals.

Take a look at a few of our sites:

PartyLaunch.com
This innovative site allows groups to instantly launch fundraising house party programs. Clients using this O'Connell Meier site include The Humane Society of the United States , Greenpeace , Consumer's Union, Common Cause, Working Assets, La Leche League International, Fabretto Children's Foundation, as well as authors and producers. Political organizations and candidates can also create house party programs using O'Connell Meier's Party2Win.com

ALPA's Member Insurance Section
This section of the ALPA site organizes an enormous amount of detail in a clean, easily accessible format. Pilots are on the road and using slow connections, so a simple, quick-to-load and process format was critical.